In our series on preparing for return to office (RTO) and hybrid work arrangements, we have focused primarily on what organizations and leaders need to consider in making these arrangements successful. However, at the end of the day, the success of these transitions ultimately depends on how all employees—regardless of title or position—are able to be engaged, safe, productive, and successful.
While it's clear how expectations, processes, and support structures—put in place by organizations and leaders—have a huge impact on how the change to a hybrid work environment happens, there is actually a lot each employee can do to prepare for the transition and own some of that success.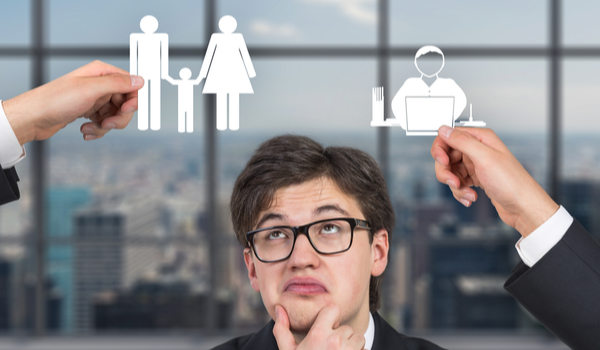 One perspective is to proactively assess needs, wants, and facts across two crucial dimensions: Your professional life and your personal life. The two are more intertwined than ever before. To get started, ask yourself a few questions. This can help gauge how much clarity you have or how much planning you might still need before you are ready to dive into this new world of hybrid work.
Professional

Given what is known about RTO and the hybrid work arrangement that is planned, what does that mean for how you execute your role?
Given that we are still in a pandemic, what do you need to feel safe being in the office and interacting with colleagues?
What do you want your colleagues to know regarding your comfort level with in-person interactions?
What new or different skills or behaviors do you need to be successful? Whose help do you need to develop these skills/behaviors?
What are some potential derailers of your work/life balance in the new hybrid work arrangement? How can you ensure the balance is maintained overall (understanding that what is "right" is different for everyone)?
Who at work will you confide in/seek support from when there are barriers or challenges in this transition (your supervisor, HR, your coach, others)?
What are some things you can be excited about regarding this transition? What will you personally benefit from?
Personal

What arrangements do you need to make for your family (childcare, pets, transportation, meal schedules, etc.) to be able to RTO?
What help do you need to make those arrangements?
Are there any accommodations your supervisor should consider, given your personal circumstances?
What conversations do you need to have, and what else needs to be done, to help your family feel safe about you returning to the office?
How will you maintain the appropriate work/life balance from a personal perspective?
How are you planning to check in with your family regularly on how things are going and what may need to be adjusted?
This list is not exhaustive, but encourages you to pause and think about these items long before you are in the trenches of the new hybrid work environment and may not have the bandwidth to address them as problems arise. There will invariably be things beyond your control, and you may need to adjust to them—even if you don't agree. Thinking and planning ahead—and asking for help where needed—will reduce the overall stress of the transition and help you to take advantage of the benefits a hybrid work environment can bring.
Also see: Eight Steps For Maximizing Your Relationship With Your Manager