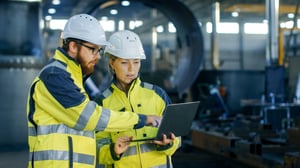 Most turnaround work occurs during the execution phase—but key activities performed during the shutdown, cleanup, and startup phases (SCS) can make or break a turnaround's success.
These portions of the turnaround should require a fraction of the time to complete, compared to total turnaround time. But poor planning and execution of blind lists, procedures, permits, or chemical cleaning work scope quickly lead to longer durations and higher cost.
Predictability of SCS Work Is Critical for Turnaround Success
Complete SCS work early, and maintenance resources are often not ready or available—which means a missed opportunity to decrease turnaround duration. Complete SCS work late, and you increase the duration and cost, as maintenance resources are paid to wait. While these increased costs may seem insignificant compared to total turnaround cost, they add up. (We know of one refinery that chalked up $160M in losses over a ten-year period, because on average, they overshot their cleanup schedule by 20% and startup schedule by 35%.)
Given the impact of SCS on the operational and financial performance of a turnaround, we recommend investing additional time and attention to ensure that the same rigor and attention paid in the execution phase also is paid to SCS.
Success Factors Essential to Improving SCS Performance
Based on our work in the field, we believe these success factors are essential for improving SCS Performance:
Dedicate Resources for Planning and Scheduling the SCS Work—this is perhaps most important, and it starts with establishing clear roles and responsibilities. Next is selecting the

right

people—those having knowledge of the unit, planning and scheduling experience, and technical skills in the software applications.
Release Resources from Their Current Job Early

(especially if they have limited turnaround experience)—The learning curve can be steep for important SCS deliverables like blind lists, procedures, and chemical cleaning. Once in place, protect people as best you can. Units often lend their most experienced and best-skilled folks to plan SCS jobs. When unexpected operational issues arise back in the unit or when you need vacation coverage, resist the temptation to pull them out of their SCS planning role. When it is absolutely necessary to pull someone from their turnaround planning work, make sure you communicate well with all of the impacted parties so adjustments can be made. Finally, return people to their SCS roles as quickly as possible.
Complete SCS Deliverables on Ratable Basis—Leaders must regularly review progress on deliverables such as blind lists, procedures, and a permitting plan, and discuss performance with the SCS planning person. Ratable completion of deliverables also allows for integrating the SCS schedule into the larger execution schedule. (We'll talk further about ratable input in our next blog post.)
Manage the Quality of SCS Deliverables—To drive consistency within and across units, it's important to have standard tools/templates and exemplars for reference and training. Managers should use the standards to conduct regular quality reviews.
Conduct Detailed Planning/Scheduling—Treat the SCS phases of your turnarounds just like your execution phase by conducting the same rigorous planning and scheduling for your SCS work. Document and share lessons learned.
Capture Lessons Learned—To sustain continuous improvement in your SCS performance, ensure that lessons learned are captured, shared, and made available for others in the future—especially those involving early or late completion of steps in the process.
Measure and Review Progress Regularly—Use progress reviews with the Turnaround Team and Turnaround Steering Team opportunities to provide additional feedback, identify roadblocks and barriers, and align on actions to close gaps. Senior leadership involvement and oversight is invaluable in helping drive successful SCS planning and execution. To leverage their time and drive high-quality performance discussions, we recommend at least three key metrics: (1) ratable completion of deliverables, (2) results of quality reviews, and (3) SCS durations—planned vs. actual.
While the recommendations above cannot guarantee a successful turnaround, they do help increase the likelihood of completing the work on time and within budget.
Related posts: