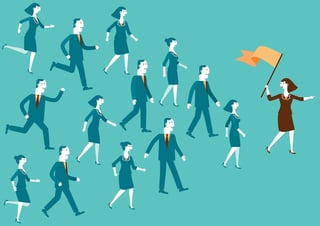 In Part 1 of our series, we explained that your company's long-term strategic advantage relies on current leaders to develop future leadership talent. We identified Five Critical Capabilities that leaders must demonstrate: strategic talent mindset, talent identification skills, creating development opportunities, coaching skills, and interpersonal awareness.
Here, in Part 2, we present the remarkable story of how one HR executive leveraged those five talent-development capabilities with leaders to expand their severely restricted leadership pipeline.
The CHRO's Opportunity
When this dynamic CHRO—let's call her Deborah—joined a $2B financial services organization, she found a weak talent pipeline that was slowing growth and threatening the company's long-term viability. So she set out to dramatically improve the way leadership talent was developed and managed.
Existing talent data was very limited. A "strength" listed for several executives was simply "intelligent," which was meaningless. She needed to know how well leaders leveraged their intelligence to create value for the organization.
Deborah's team reviewed data for the previous five years. The low percentage of positions filled from inside was dismaying:
Positions Filled From Inside
| | |
| --- | --- |
| C-Suite | 0% |
| VP | 29% |
| Director | 43% |
| Manager | 69% |

The talent pipeline was not producing. This meant too many external hires were necessary, and many of them failed to integrate, costing the company productivity and high recruiting fees. Further, the number of potentials for VP and Director had been shrinking because people saw senior roles being filled externally and sought opportunities elsewhere.
What caused this breakdown in the leadership pipeline? Deborah's team discovered that:
Leaders did not understand that developing talent was a critical accountability of theirs. (They focused on delivering results and expected people to somehow develop themselves.)
What development did occur, happened in silos. (So when enterprise-level thinking was needed, there were few internal candidates.)
Most importantly, the five critical skills and behaviors needed for leaders to be strong talent developers were often missing.
Here is a brief look at each of the Five Critical Capabilities, comparing the situation when Deborah arrived ("status quo") to the actions she took to improve it.
1. Strategic Talent Mindset
(Recognizing that developing leadership talent is essential to the company's long-term strategy)
Status quo: The organization's leaders focused on getting results, and expected HR to raise "ready now" leaders for them, or to quickly source great candidates in the marketplace. Leaders lacked a "strategic talent mindset."
Actions: Deborah helped leaders see the connections among recruiting, development, role assignments, and project experiences. Leaders began to embrace their role as the primary talent developers, and accountability mechanisms were added.
2. Talent Identification Skill
(Spotting those who have the potential to lead)
Status quo: Leaders weren't methodically assessing the knowledge, skills, and capabilities of high-potentials, so many were overlooked and departed the organization.
Actions: HR and senior leaders instituted talent reviews for the top five levels in the organization, added performance/potential assessment criteria into the talent process, and used talent-development data for promotions. Being a good "talent spotter" was encouraged and rewarded by senior leaders.
3. Creating Development Opportunities
(Proactively seeking or creating development opportunities for emerging leaders)
Status quo: The senior team knew they had to overcome the silo mentality that dominated how careers evolved, but they weren't doing it.
Actions: Deborah's HR team used talent profiles with senior leaders to identify strengths and development opportunities. They laid out multiple development paths for each leader, based on what the leader needed to learn or experience. Leaders across functions met regularly to discuss opportunities to share talent.
4. Coaching Skills
(Providing individualized support to guide the development of emerging leaders)
Status quo: Senior leaders admitted they were poor role models for the Five Critical Capabilities. They needed to provide more feedback and coaching to people in the pipeline.
Actions: They used a powerful feedback tool called "What, So What, Now What" to positively structure the interaction between a leader and the feedback recipient.[1] Clear expectations were communicated to ensure this dialogue happened regularly.
5. Interpersonal Awareness
(The ability to effectively listen to others and understand their perspective and what motivates them)
Status quo: Although leaders provided some feedback and coaching, many were poor at empathizing, which made their feedback and coaching feel transactional rather than genuine.
Actions: HR added a module on interpersonal awareness into the leadership development program. In simulations, leaders practiced specific actions, behaviors, and verbal ways to convey empathy and were measured through a 360 feedback process.
Results
Thanks to strong CEO sponsorship and focus on "leaders developing leaders," the internal replacement success rate by the end of Year 3 increased dramatically:
Internal Replacement Success
| | | |
| --- | --- | --- |
| | Before | End Of Year 3 |
| C-Suite | 0% | 80% |
| VP | 29% | 90% |
| Director | 43% | 85% |
| Manager | 69% | 90% |

Every organization needs a strong leadership pipeline to fill key leadership roles. By understanding your pipeline and leveraging the Five Critical Capabilities, your organization is better situated for the future.
Next - in the the 3rd and final part of this series, we will discuss How to Expand Your Leadership Pipeline.
To learn more about leadership development for HR leaders, please download our free whitepaper, "HR Creates Competitive Advantage by Helping Leaders Become Developers of Talent."
[1] The "What, So What, Now What" sequence is adapted from a concept in Reach, Touch, and Teach: Student Concerns and Process Education, by Terry Borton (McGraw-Hill, 1970).