"Trust has to be earned and should only come after the passage of time." –Arthur Ashe
Trust is fundamental in our daily interactions, but we don't talk about it enough. We're social animals, and the very foundations of society are built on trust. So it should be obvious why trust is critical to success in everything—including business.
According to The Trust Outlook[1], about 85% of people believe that a high-trust work environment helps them perform at their very best. Virtually all metrics improve when employees trust their employers and vice versa, and that is especially true in a hybrid working world.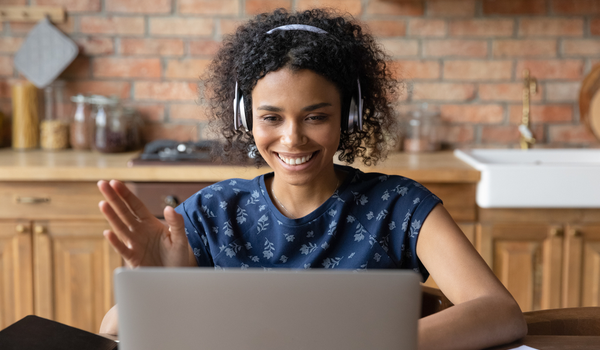 As a leader, you've made it this far by establishing some trust between yourself and your coworkers. But there's always room for improvement. In creating opportunities to build trust, as in most leadership skills, it's important to be intentional.
Trust Begins with Relationship-Building
Since relationship-building is so key, dedicate time daily to it, even if it's just 20 minutes. In a hybrid environment, it will take longer, with more intention and focus to build relationships. But take this time to refine your people skills, for good relationships start with good people skills.
Demonstrate empathy. Showing that you care and relate to an employee's situation naturally builds rapport.
Actively listen. People respond when you truly listen to what they say—meaning, listen to understand rather than just listen to respond. Focus on listening more than you speak, and you'll quickly build trust.
Show up positive. Positivity is contagious and strengthens relationships. Conversely, avoid gossip, which quickly erodes relationships.
Here are a few more simple tips for fast and effective relationship-building:
Share more of yourself at meetings; show vulnerability

Speak positively about coworkers, especially to your boss
Support other people's work
Ask others to become involved in your projects or activities
Write thank-you notes (handwritten is best)
Initiate conversations by asking questions
Encourage repeated interactions and communications—set a specific time to reconnect rather than vaguely saying "this was great, we should talk again…"
Participate in activities with coworkers… inside and outside of work


Building Trust with the DCOM® Framework
There is a powerful way to organize all the above advice, and make it happen to build trust continually. It's called the DCOM Framework. DCOM stands for Direction, Competence, Opportunity, and Motivation. These are the four critical building blocks for the success of every leader and organization.
Ask yourself the questions below to gauge how well you're building trust using sustainable, proven techniques.
Do you do what you say you will do? You might have to find ways to make that more visible in a hybrid environment.
Are you providing the right level of guidance? Your team should know what's expected, but still be empowered to figure out the details on their own.
Are you using objective metrics to establish baselines and performance goals?
Do you show constancy in purpose and priorities, or do they shift frequently? When they do shift—and they likely will in a hybrid environment—are you transparent about why they have shifted?
Are you reviewing progress regularly and making that obvious to others? Reviewing progress during team meetings, town halls, 1:1 discussions?


Are you actively assessing and building the skills of your workforce to meet the needs of the business? Are you devoting time to

coaching for development

?
Do employees know how they fit into their current team and what their career paths looks like?
Are you open to experimentation and change? You and your team will need to learn and adapt to what works best. What's working today may be different than what is needed in the future.
Have you given your team the authority to make decisions, or are you micro-managing?
Are you identifying barriers to success and acting to remove them? Barriers may change over time, especially in a hybrid environment, so check regularly.
Are you providing the right resources to make your team successful?
Are you truly available, even in a hybrid environment? Let your team know that it's ok to call or send an instant message and reinforce them when they do reach out.
Are you providing positive and constructive feedback regularly so your employees can grow? In a hybrid world, use chat or instant messaging for short pieces of positive feedback. For constructive feedback, schedule time to meet face-to-face or virtually.
Do you advocate for your employees? Always make contributions from remote employees visible to others.
Are you engaging your people in determining what type of environment or hybrid schedule will work best? Demonstrate flexibility and understanding – there may be variability in working hours, but focus on achievement of outcomes, rather than the time of the day that the work is performed or completed.
What motivates your team members? Do you customize your approach based on this information? Relationship-building allows you to motivate your employees more effectively.
Using DCOM helps build relationships and develop trust, especially in the world of hybrid work. Investing in trust should be constant and continuous, but in these trying times, it's even more critical. Trust is a two-way street, especially over the internet.
Download this easy to use tool to prepare for effective, relationship-building one-on-one conversations critical to creating trust.

[1] https://trustedge.com/the-research/
DCOM® is a registered servicemark of CLG (dba ALULA)