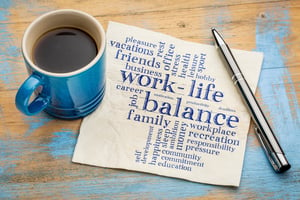 Last week I attended a conference for women leaders in pharma. Advancing Women's Leadership Skills and Opportunities in Pharma and Healthcare was held in Philadelphia to discuss how women can be most impactful, both as leaders and as people.


My colleague, Kim Huggins, presented on "creating and leading high-performing teams," and joined a panel on inclusivity and relationship-building as a leader. As I listened to the speakers, I thought: these topics are relevant for any leader, regardless of gender or seniority.

We all seek work/life balance. But the higher you move up the leadership ladder, the more likely you are to hear cynical comments about the impossibility of having it all. We strive toward some ideal, perfect state, embracing a mental picture of what our work experience will be like when we get there—our relationships, personal life, and wealth.

But this intense focus on an idyllic future means we're often not present in the here and now. We don't realize all the progress we've made and the benefits we have today, and how our behavior today is shaping the behavior of others in the future. At any given time, the definition of "perfect balance" depends on what you, and those around you, need and value today.

So, while it's helpful to know where you are headed, be mindful of what's going on today. Ask yourself:
Am I really present in, and making the most of each moment today?
Am I clear on the values that are important to me?
Is how I live my life today in line with those values?
Are my priorities still where they should be, given my values and goals?
Do I know what 'good' looks like relating to my goals? Or am I living based on a definition given to me by others?
Can I accept that "having it all" is not an end state, but an ongoing balancing act?
Do I allow myself to take risks to grow?
Do I give back to others by actively mentoring and coaching those who want it, in the same way somebody did for me at some point in my life?
These questions help you reflect on how to be the best version of you. Just know that even saying "no" to requests by others can be a helpful tool in reinforcing your values and priorities, and helps you get closer to that state of balance for which you strive.
Want to learn more about being a high-performing leader who directs high-performing teams? Join ALULA's Webinar on October 9th. We'll discuss the four types of leaders and the essential elements and actions required to lead a high-performing team.