"Leaders don't force people to follow, they invite them on a journey" – Charles S. Lauer
There's been a great deal of dialogue on the return to office (or RTO). From business need, to timing, to individual impacts, the discussion has been… robust, to put it lightly.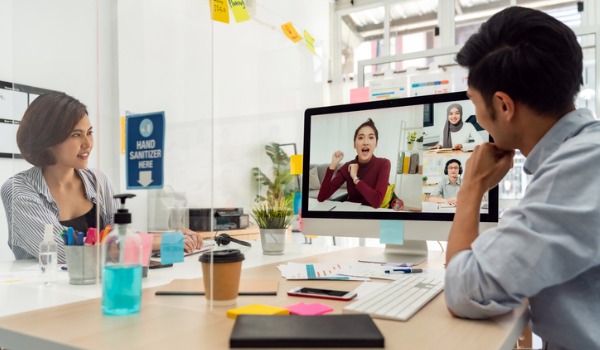 But what if you as a leader are considering whether it's time for your team to return. There are a ton of angles to this issue, so before you make a decision and present your people with a potentially shocking ultimatum, take some time to consider the individual factors, and then TIE it all together into a more presentable package.
Part 1: Tie down your reasoning—Challenge your mindset and leader behaviors
The first question to ask is "why now?" Take a pause and reflect on why you are asking your people to return to the office. The reasons may seem obvious to you—perhaps even to your team—but those feelings aren't always so easily communicated to all levels of the organization.
Perhaps it isn't obvious. If that's the case, then it's time to start asking some more serious questions about RTO or Hybrid:
Why now? What is happening that makes the proposed timing ideal?
Who benefits from having everyone back in the office? Are these benefits tangible, business-critical, and backed by data… or are they more anecdotal?
There are no right or wrong answers to the questions above. They simply help leaders in examining the business case for RTO, then challenging old ways of thinking that may interfere with an unbiased view of what is business-critical.
Part 2: Tie your teams together to create one unified culture.
A great many businesses tout "culture" as one of their highest values, yet don't stop to consider some of the most critical aspects in shaping a culture. A company's culture isn't defined by holiday get-togethers or annual ice cream socials; it's defined by the daily behavior of its people.
Additionally, a company's culture absolutely cannot be split between remote workers and those returning to the office. That kind of duality only breeds resentment and will not last long-term. Leaders can't properly inspire others or make lasting change without tying remote and hybrid working cultures together as one. Start with a T.I.E.: Trust, Inclusion, and Empowerment.
Trust

Establish and role model trust with your team by

Establishing ways of working, including check-ins for specific work and removing barriers to performance

Engage in dialogue about the why and what, not the how

Catch people doing it "right" and provide reinforcement

Inclusion

Challenge yourself as a leader to engage in daily acts of inclusion. Whether your team is remote, in the office, or hybrid, what can you do to get to know them better?

How can you showcase their ideas or seek their expertise?
How can you provide opportunities through coaching or mentorship?

How can you, as a leader reinforce others engaging in daily acts of inclusion?

Empowerment

Meet with your team and align on where they are empowered to complete a series of tasks or make decisions

Allow your team to work independently and communicate what you will do to support them
Providing coaching and support
Be open to feedback for new ideas and new ways of doing things
Bringing people back into the office, continuing to work from anywhere, or any combination of the two requires behaviors to be shaped over a long period of time. There is no one-size-fits-all solution to make every employee happy with the RTO or hybrid circumstances, but fostering an environment of trust, inclusion, and empowerment can spark Discretionary PerformanceSM.
Discretionary Performance occurs when people don't just have to do work, they want to. Striving for that kind of employee engagement is understandable, but getting there is difficult, and may require some assistance… Tying together any amount of people and forming a unified, engaged culture is no easy task. Who will TIE your organization together as one team?

Are you ready to take your employees on the journey back to the office?