Here at ALULA, love of pets is something of an unspoken job requirement. That might sound odd when our focus is on the people part of achieving business results, but affection for four-legged friends is a strong cultural thread. It pulls at our heartstrings and weaves them together, shaping us into one ALULA team. August is National Dog Month, and we take that celebration seriously! After all, there are a lot of synergies between what we do as a business and our love of dogs.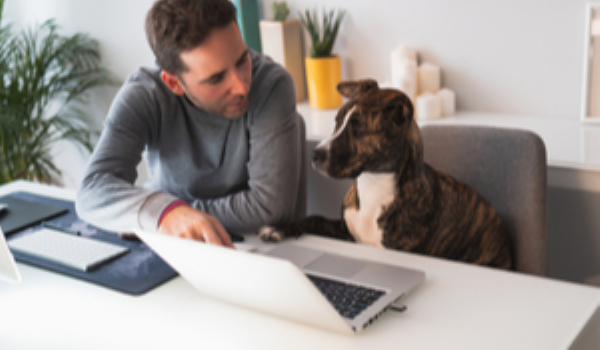 We've had quite the journey over the last year and half, and our pups were along for the ride. Essential workers held the frontlines while others packed up and started the work-from-anywhere adventure. The rapid transition was an adjustment for the world's workforce. We were suddenly separated, plunged into finding creative ways to be effective leaders, keeping teams connected and engaged while apart. Our furry co-workers helped keep us stable during turbulent times. Endless days of digital calls were interrupted by barks and wags. It became standard procedure to feature our pups during opening comments at meetings, usually rousing them from a nap under our makeshift desks. Deliveries at the front door honed our speed to the mute button and we laughed when the new-normal interruption of barking or lap-lounging would have been scoffed at in the past. We were more intentional to pause and just be human, celebrating the joy dogs brought us.
The human behavior changes driven by the pandemic are undeniable. Creating work-life balance became even more of a struggle for some. Old lines started to blur as work spilled into all aspects of what used to be "personal" life. We started off strong, but lunchtime walks with our furry friends began to get cut short and eventually even they developed conference call fatigue. Questions around productivity, performance, and results started to haunt us. It became apparent that we needed to quickly adjust what we did and how we did it
.
Can you teach old dogs new tricks?
Behavior change is necessary for every mammal to learn, adapt, and thrive. Sure, it looks a little different for dogs than it does for employees and leaders, but the principles are the same—positively reinforce the behaviors you want to see. The effects of our shifting environment require us to change to create an atmosphere where people are engaged, have purpose in their work, and reach key business goals. Our proverbial pandemic "sit-stay" required us to up our game as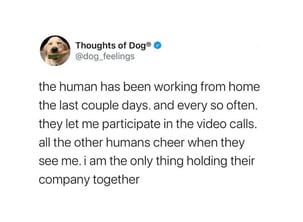 individuals, teams, and organizations. You can't always fix a new problem with the same old methods, but you can teach old dogs new tricks! We had to learn new ways of doing things, practicing them consistently, and reinforcing ourselves and our teams for progress. Leaders realized that acknowledging and rewarding employees for fast adaptation had the same effect as a favorite treat for our pups (a post-performance reward, if you want to get technical). The synergies are there, shaping behavior has universal traits, regardless if the performers have two legs or four.
Celebrating our dogs isn't limited to National Dog Month at ALULA. Our volunteer program has allowed several of our members to give back to our beloved friends in big ways, and even the pandemic has created opportunities to open homes and hearts, but there are still many in need. We owe our canine companions a collective thanks for their help during these uncertain times; keeping us sane, making us laugh, and generally being a bright spot during dark days. Join the celebration, make time this month for an extra-long walk, round up at the cash register while at the pet store, or drop a bag of food off to your community Humane Society.
The world is hopeful to reopen, and there is a transitional period on our horizon. There will be another set of behaviors for us to learn. It might be wise to take note of what our pets have shown us: keep it simple, consistent, and reward good behavior. Wag more and bark less. In an ever-changing world, we must quickly adapt to survive and thrive, but one thing remains constant: the love of a dog.
Author: Jessica Miller, ALULA's Director Offer Strategy and Execution